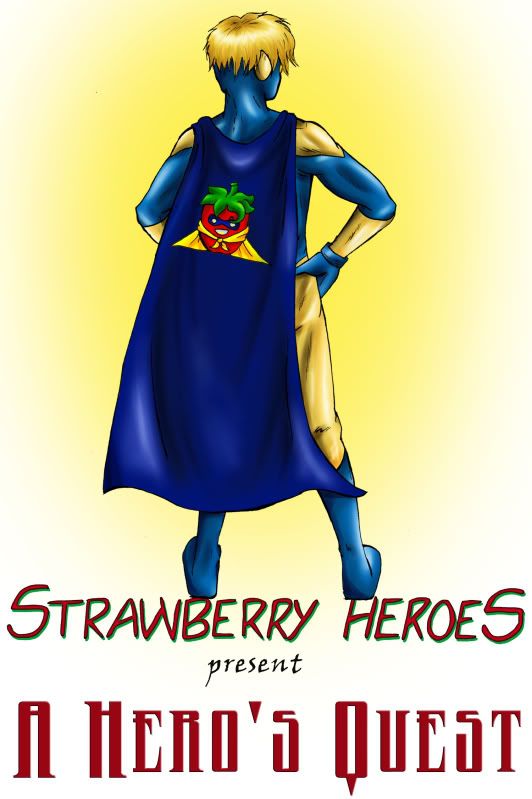 Story:



Zum ersten Mal im deutschsprachigen Raum wird es auf den Fantasydays 2009 eine Show geben, die sich um die Helden mit Cape und Maske dreht.

Im Debütwerk der Strawberry Heroes spielen nun endlich auch die Superhelden eine Rolle; altbekannte Gesichter sowie unbekannte Aufsteiger geben sich hier die Klinke in die Hand, um den Zuschauern ein unvergessliches und humorvolles Erlebnis zu bieten.



Wir befinden uns im 25sten Jahrhundert: Michael Carter, dank eines Wettskandals ehemaliger Star-Footballer, hat die Schnauze voll von seinem Job als Hausmeister im Metropolis Space Museum. Er beschließt also kurzerhand einige Ausstellungsgegenstände zu stehlen und damit ins 21ste Jahrhundert zu fliehen, um sich dort als Held Booster Gold einen Namen und vor allem Geld zu machen. Dabei begleitet ihn der Museumsroboter Skeets, der ihn immer mit Rat und Fakten bezüglich der Vergangenheit zur Seite steht. Sogleich bietet sich auch die erste Gelegenheit sich mit Ruhm zu überschütten, denn kaum dass Booster Gold die Zeitreise hinter sich gebracht hat und sich im düsteren Gotham wieder findet, eröffnet sich ihm der mysteriöse Fall um Batmans Verschwinden.

In einer Achterbahnfahrt an Action und Humor macht er sich nun auf die Suche nach dem weltbesten Detektiv und stößt dabei auf einige verzwickte Verwicklungen und auch auf jede Menge lustiger Gestalten. Wen er dabei trifft? Das ist natürlich noch Top-Secret!

Ein absolutes Muss für jeden Comicfan!




---
Fantasydays 2009: For the first time in Germany there is going to be a show making the Capes and Masks the centre of attention. The Strawberry Heroes' debut show is all about the Superheroes; old-known faces and new-almost-heroes will appear and let the audience experience an unforgettable and humorous adventure.



We're in the 25th century: Michael Carter, once Star-Football player thanks to a betting scandal, works as a museum caretaker at the Metropolis Space Museum and is really fed up to the back teeth with it. So he decides to steal some of the exhibits to flee to the 21st century to make a name for himself as the hero Booster Gold…and not to forget making money. Skeets, the small Museums intelligent robot which knows everything about facts of the past, accompanies the young man. As soon as the Duo arrives in the past, Booster Gold gets his first chance to achieve glory and fame, because the mysterious disappearance of Batman spreads in the dark Gotham alleys like a bad rumour. And who would be better to find the world greatest detective and solve this case?

On his journey he stumbles from complication to complication and meets many heroes and villains. Who will he meet? Of course this is still Top-Secret!

An absolute must-see for all comic-fans!


---

---
Wann? Am 7ten November 2009


Wo? Auf den Fantasydays 2009


Beginn? Ca. 15 Uhr


Ort? Hangar One
Current Location:

Rechenzentrum

Current Mood:

bouncy

Current Music:

Reefer Madness